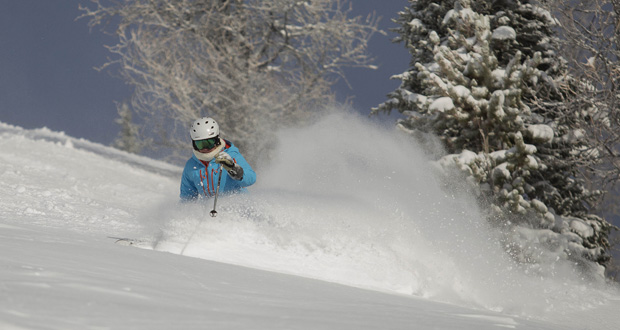 [vc_row][vc_column width="1/1″][vc_column_text]
Fourth win as Canada's best skidom. Writes Julia Francis.
Lake Louise Ski Resort has won the title of Canada's Best Ski Resort for the fourth time in the last five years in the prestigious World Ski Awards. The friendly giant of Canadian ski resorts, much favoured by The Good Ski Guide, was also named as one of the top three freestyle resorts in the world. The 2017 World Ski Awards Gala Ceremony in Kitzbühel, Austria is the only global initiative to recognise, reward and celebrate excellence in ski tourism. Lake Louise won by receiving the most votes cast by leading ski tourism professionals and luxury travel customers.
The resort, nestled in the heart of the Rocky Mountains and Banff National Park UNESCO World Heritage Site, offers legendary light, dry powder and awe-inspiring panoramas of endless mountain peaks, glaciers and frozen lakes.
With 4,200 acres of terrain spread across four mountain faces and one of the longest seasons in the world, Lake Louise is for all tastes and abilities
Minutes from the village of Lake Louise and a short drive from the iconic Western town of Banff, Louise boasts
Very large first-timer area, beginner and intermediate runs from every chairlift and world-renowned expert terrain
Steep chutes and expansive bowls, plus an awesome terrain park
Consistently voted a locals' favourite and one of the most scenic mountain destinations in the world.
[/vc_column_text][vc_gallery type="flexslider_fade" interval="5″ images="28847,28845,28846″ onclick="link_image" custom_links_target="_self" img_size="full"][vc_column_text]
Snowy season ahead for Canada's big ski country
Even at the end of November, thousands of Calgary snow fiends were crowding Lake Louise ski area – the country's biggest and best. Louise is consistently acclaimed and awarded as the most scenic ski area on the planet because:
It's Huge – Seriously big, and seriously accessible, over 145 named runs across our four mountain faces, with beginner and intermediate runs from every chair.
Groups and families can enjoy a ski day together. As every lift drops skiers at the start of a run for all abilities. Skiers and boarders are spoiled by the variety of terrain; gentle groomers, serious steeps, long cruisers, glades, gullies, chutes, open bowls, moguls and secluded secret powder stashes.
Friendly too – Brits will not find a friendlier snow destination, as visitors smile a lot thanks to the great snow conditions – and unlike our grumpy Euro neighbours the Canadians actually welcome outsiders and the resort even pays Hosts to take you around and show you the mountains. Take me there.[/vc_column_text][vc_column_text]
Sushi meets the mountain
The Lake Louise Ski Resort is psyched to announce après ski at our Sushi Bar, Kuma Yama. International style tapas with Japanese flair will be the name of the game, and there will be no shortage of beer and sake to go around. Located in what was previously the stunning Great Bear Room, the venue has seen renovations by a top regional designer into an incredibly unique ski resort dining experience. The Sushi Bar will continue to express the traditions set in creating quality sushi while concentrating on the individual presentations that utilize the elements of the Canadian Rockies such as wood and stone. The menu features delicious ramen, AAA Alberta beef tataki, nigiri, sashimi and custom maki rolls designed and named after the world-famous runs and terrain. Kuma Yama also caters to special diets with gluten free, vegan and vegetarian options available.
Whitehorn Bistro
Located at 6700' (2042m), Whitehorn Bistro is the perfect spot for you to stop and visit this newly renovated outlet. Designed to be the showcase of full service dining at the ski area, we invite you to enjoy sweeping panoramic views & fantastic scenery while experiencing an upscale menu in a casual environment. We're proudly offering a variety of items such as cheese fondue, signature seafood chowder, Rocky Mountain game platters and our house made Bison burger. In addition to this we have an excellent selection of beer, spirits & wine to compliment your dining experience.[/vc_column_text][vc_row_inner][vc_column_inner width="1/2″][vc_single_image image="28850″ border_color="grey" img_link_target="_self" img_size="full" alignment="center"][/vc_column_inner][vc_column_inner width="1/2″][vc_single_image image="28851″ border_color="grey" img_link_target="_self" img_size="full"][/vc_column_inner][/vc_row_inner][/vc_column][/vc_row]