[vc_row][vc_column][vc_column_text]
This resort is the country\'s largest and has the most beautiful setting – a chalet town with stunning scenery. It\'s purpose built with skiing from 1,300m to 2,560m and around 60km of pistes, featuring some good, long intermediate runs, including a World Cup Downhill.
[/vc_column_text][/vc_column][/vc_row][vc_row][vc_column width="1/1″][vc_column_text]
There has been much property building in recent years, but no lift development to match, so Borovets suffers from horrendous lift queues with waits of up to an hour for the gondola at peak times. There are a number of good hotels and atmospheric restaurants, but as always, since the revolution, there\'s a good deal of sleazy nightlife.
[/vc_column_text][/vc_column][/vc_row][vc_row][vc_column width="1/2″][vc_column_text]
Piste Map- click for a larger view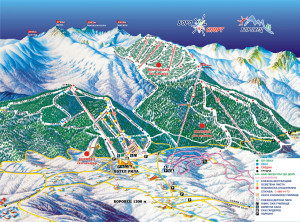 [/vc_column_text][/vc_column][vc_column width="1/2″][vc_column_text]
Resort Details

[/vc_column_text][/vc_column][/vc_row][vc_row][vc_column width="1/1″][vc_button title="View Borovets On The Web" target="_self" color="btn-inverse" icon="wpb_arrow" size="btn-regular" href="http://www.borovets-bg.com/en"][/vc_column][/vc_row]