[vc_row][vc_column width="1/1″][vc_column_text]
Major skiing countries in South America are Chile and Argentina, but in the Andes,  resorts are generally high altitude. Chile's biggest ski areas are just an hour from the capital, Santiago, at Valley Nevado, where the runs start at 10,000ft and rise to a 12,000 ft (oxygen mask?) Argentinean skiing is in the main areas around Bariloche and Las Lenas where the snow is guaranteed, as is the Spanish-style late night après ski.
[/vc_column_text][vc_column_text]
The best skiing in the southern hemisphere is here, in the Andes. With skiing up to 3,350m, you have drops of 2,000m which will take your breathe away, if the scenery doesn't first. Las Leñas (2,240m) is located in a remote part of the Andes in Argentina and a cionados say it is one of the most challenging ski resorts, attracting large numbers of hardcore skiers and boarders. Getting there is simple: fly from Buenos Aires to Malargüe and then take a one-hour bus ride.
Hardened skiers use the Marte ski lift to ascend to 3,430m to ski the most challenging terrain (it is sometimes closed due to the weather conditions). But take care as some couloirs cannot be completely descended because of cliffs and a guide must always be taken. However, there are some mind blowing open bowls. When the ski lift is closed, the resort's less adrenaline charged and reverts to an all-round family ski resort. All accommodation is in piste-side lodges.[/vc_column_text][vc_row_inner][vc_column_inner width="1/2″][vc_column_text css_animation="left-to-right"]
 Piste Map – Click to View Full Size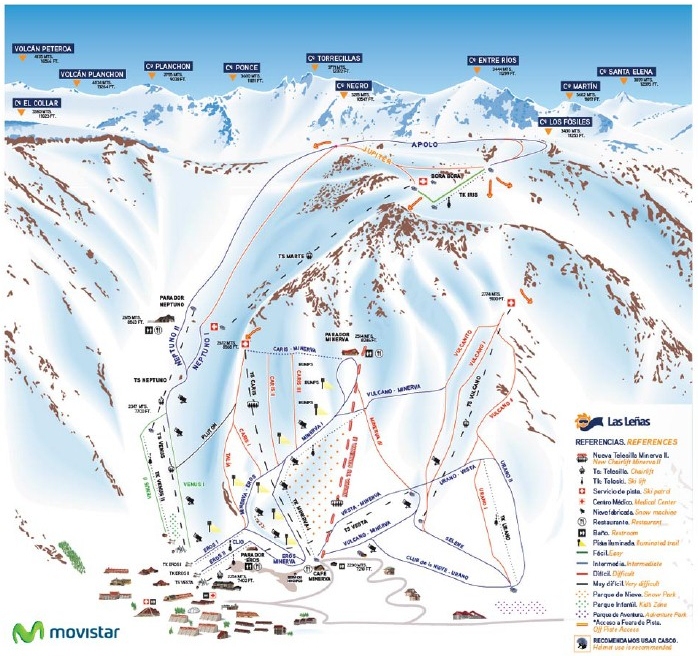 [/vc_column_text][/vc_column_inner][vc_column_inner width="1/2″][vc_column_text css_animation="right-to-left"]
Resort Details

[/vc_column_text][vc_button title="View Las Leñas On The Web" target="_self" color="btn-inverse" icon="wpb_arrow" size="btn-large" href="http://www.laslenas.com/eng/"][/vc_column_inner][/vc_row_inner][/vc_column][/vc_row][vc_row][vc_column][vc_column_text]
[/vc_column_text][/vc_column][/vc_row]