Written by Jonah Whitaker – part 1 found here
Now as someone quickly pointed out to me, Bend is a drinking town with a serious ski problem. A town of 80,000 with no less than 15 separate microbreweries. The largest and most famous of which is the Deschutes Brewery and brewpub. One of the largest independently owned craft brewers in the US they also hold the honor of making the World's Best Beer in 2012, Red Chair. A Seasonal Ale named after one of the Mt Bachelor lifts. Timing as any skier knows can make or break a trip unfortunately this time we had arrived a week too early and were told that the beer wasn't ready yet.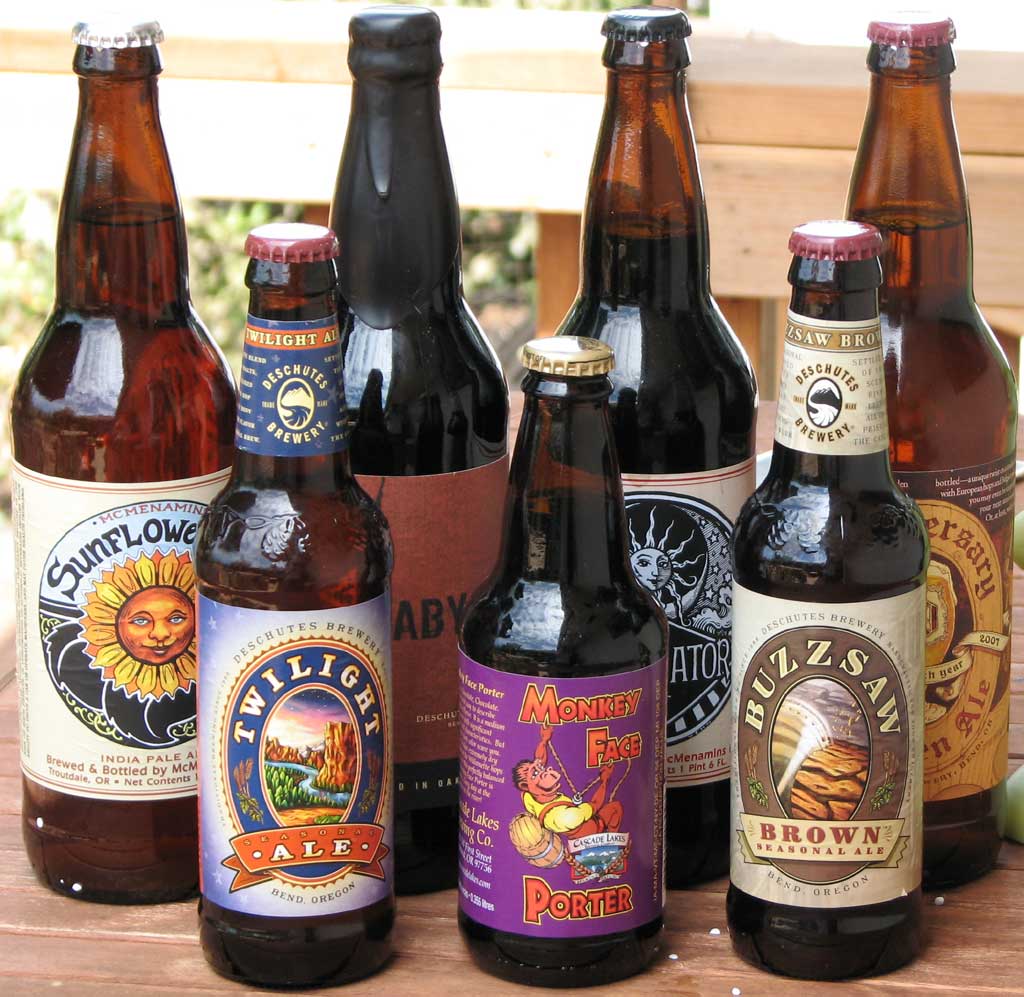 No matter because the Deschutes brewmasters have a veritable Chinese menu of different strengths and flavours. From lagers and hoppy ales to some dark black liquorishy brews about the strength of wine. Whilst some of these concoctions made for difficult drinking they were put to good use in their brewpub to marinate and flavour a menu of ribs, steaks and elk burgers. After tasting most of their wares in the interests of journalistic integrity the night carried on a bit too long for a few of us.
Next morning however our all fuzzy heads were soon forgotten when we realised the clouds had parted and we had woken to a blue bird day. Our now impeccable timing meant we arrived at Mt Bachelor for the first day that the entire mountain was going to open that season. This meant that all 360 degrees of this huge blunt volcano would be open for us to play and explore. Mount Bachelor is a huge hill, the 6th largest ski area in the US and one of the few to offer uninterrupted trails all the way round.
Eager to get the most out of the day we signed up to their free Mountain host program – whatever day you turn up you can be paired with a local guide who will make sure you get the best out of the mountain whatever your ability. We were to be shown around the Mountain by Dave, a sales rep and part time Mountain Host (or is it the other way round) who has wisely figured he can send emails from the Chairlift, run a successful business and still get to ski over 100 days a year whilst sharing his passion for his local hill with tourists.
Getting excited we asked Dave to take us straight to the top of the mountain so we could get season first freshies from the top of the Summit. In one of his few serious moments of the day he declined because it was apparently "full of chicken heads and death cookies" (that's windblown ice mounds and lumps to you and me). Internally I was grumbling about health and safety concerns. I couldn't have been more wrong and I should have given Dave much more credit however, he was not looking to dampen our fun at all – instead he took us away from the few crowds and straight to the area between the Outback and Northwest Express lifts. "So let's see if you are Bachelor Good," he shouted back at us soon after we got off the first lift and suddenly popped off a cat track and disappeared through a glade of trees. All we could do was follow our leader and trust we were in safe hands. Following Dave closely I soon figured what "Bachelor Good" was – love of technical tight tree runs and going very, very fast. Run 1 left us exhilarated and a little breathless adrenaline pumping through the veins. By Run 6 or 7 we were in ecstasy and utter, utter agony. Legs burning, feet cramping and mind weary from such concentrating on such relentlessly excellent riding. We resisted the urge for a pint of local Mind Bloater at lunch knowing the Dave was planning on taking us to the top now that the sun had softened the snow above the tree line. At the top of the Summit Express our clear heads were rewarded with uninterrupted views for hundreds of miles around. As we were standing at the top of a lone volcano standing at over 9000 feet we could see beyond Bend, past Smith Rock and the high desert all the way over to Mt Hood where we had started our Oregon ski trail. All of us stood in silence taking in the vast wilderness of the Cascades and, luckily, from the Summit lift you can pretty much choose which way you want to go down, take any one of number of long immaculately groomed pistes with names like Beverly Hills or Healy Heights down to the base station. Or more functionally named double black diamonds called simply 1,2,3, or 4. In Mt Bachelors 360 degree world there seems to be only one golden rule. Don't go past the cat track with the orange marking unless you want a long walk out!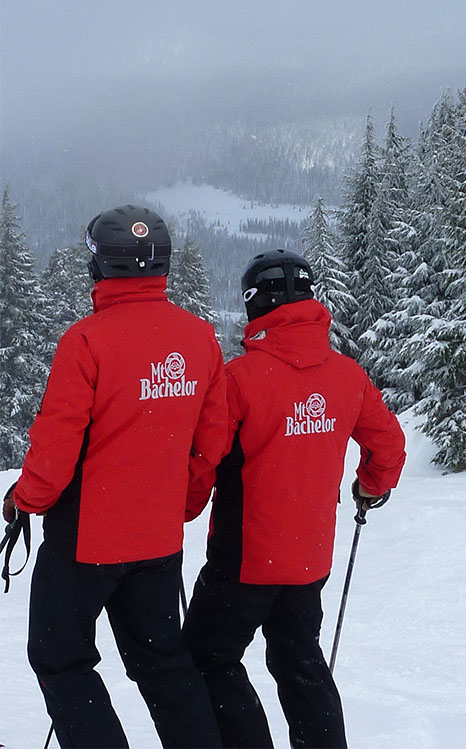 We were however really thankful for the perfect groomers. The mornings riding had taken its toll and we knew that there were other Bend breweries to sample and more snow on its way to freshen up our runs for the next day. Also if we were to keep up with Dave we knew we would have to conserve our strength.
I always find the end of an epic snowboarding trip really sad. You hate to leave good snow behind because you never know when you will get it again. This time however the disappointment was dampened by the fact we had two day to explore Portland a city I had always wanted to visit and I could finally do my Christmas shopping, tax and crowd free and away from Oxford St. America's capital of quirky may be rainy in the winter months but is very easy to get around on foot and public transport. Lucky since I didn't have a car and needed to explore to find my gifts. From bike powered bars to restaurants that have daily menus like 'Ode to Eggs' to the eponymous food trucks where cooks diligently specialize in a single perfectly cooked dish; Portland is a walker's paradise. After a day of ambling around arty areas finding my Christmas gifts I arrived at another microbrewery full, tired and wet but not wanting to leave.
Oregon Trail Ski Safari
11 nights from £1,449pp including 3 nights in Timberline Lodge.
9 nights from £1,309pp including 1 night in Timberline Lodge.
Prices are based on 2 people travelling in January and include flights, accommodation and SUV hire.
Link as follows:http://www.skisafari.com/Ski-USA-The-Oregon-Trail-Safari-Details.aspx
Delta Fly from London to Portland daily via Amsterdam www.delta.com
Evergreen Escapes, a local tour operator based out of Portland offers bespoke itineraries and trips across the Pacific Northwest. All their guides (or escape artists) are picked for their knowledge and expertise in adventure activities, local history and wildlife.
www.evergreenescapes.com
For more information on travel to Oregon visit www.traveloregon.com