John Hill discovers the Alps best ski retreat
It's very rare for me to sign or leave a recommendation in a hotel guest book, but I did last week after a stunningly-great ski weekend in Val d'Isere. I simply wrote "as good as it gets", and I meant it because Le Chardons chalets village lives up to its 5-star rating.

You easily run out of superlatives describing the Chardons experience because it is valet all the way. Chardons chauffeurs pick you up at Geneva airport, or local heliport, and transport you to the best position in Val, as the Brit favourite resort is affectionately known.
Chardons owners must own a champagne house as copious amounts of the bubbly stuff is offered on arrival, after skiing – with the continual snacks and canapés proffered – and before and even during dinner (if you want).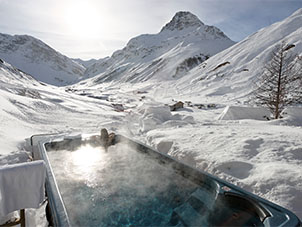 It is the bubbly and genuine greeting that impresses, because I have rarely experienced such friendly or helpful staff, and each of Les Chardons five superbly-designed chalets have their own team, including chefs.
All accommodation is top rate and being a constant traveller I was delighted to find a comfy bed to match my mighty frame and impressed by the deployment of a downer, which is a comfy and toasty cosy second mattress.
Oh, and some of the Alps' finest skiing is on the doorstep – walk a few yards and you are on the pistes and you ski back to your doorstep to – yes more champagne and a bubble bath or swimming-sized hot tub (more champagne) and then a professional massage before your sumptuous gourmet dinner accompanied by fine wines and you guessed – more bubbly.
Ever-willing staff will transport you anywhere – or get you anything you need at the shops, but after two days of dreamy, sun-filled skiing it was time to summon up the butler to load my kit and quaff a final Bolly before heading home. For Val d'Isere read Val Desire, and as you can expect it is not cheap, but a very good value at some £1,250 a week, everything included, and oh – unlimited champagne. www.lechardonsvaldisere.com
GREAT DEALS IN LE CHARDONS
Easter Holiday Special Offer – exceptional 45% discount on all remaining chalets (13- 20 April)
Chalets Lafitenia and Bergerie were £28,320. They are now £15,540.
Half price! Rooms from £1,150 per person based on two sharing (week 9th and 30th march)
For the first time this season, flagship chalet Le Chardon, is available on a split-chalet basis on weeks commencing 9 and 30 March.  Rooms start at £1150 per person based on two sharing.
Shared transfers are available to book departing Geneva at Midday and 4pm on both arrival dates, departing Val d'Isere at 8am on departure dates.
Call us on +44 (0) 131 209 7969 or email us.
Bookings 2014/15
Now also taking bookings for 2014 / 15 already with early bird discounts on request.