Achtung! Achtung! May well be the cry on the slopes of the mighty Kitsteinhorn Mountain at Kaprun in Salzburg Region this coming season. Because the newest attraction high on the peak's front face is a massive new black run called the Black Mamba.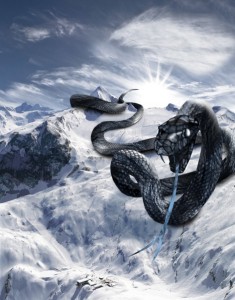 Black Mamba, is a groomed slope up to 63% steep! The black piste 14 is 1,000 metres long, covers 290 metres in altitude and is venomous like a mamba – perfect for all experts who love it steep!
Good Ski Guide sent out its man in Kaprun to test the run and he reports that it is a real steepie and none too wide – apparently only the width of three snowcats, about 15 metres! So watch your speed as you slither round the mamba's slippery bends.
What will it be like to ski? Well we have skied many times on the line of the run, but not on piste, so this will be a new experience.
There will still be plenty of powder and bumps for those looking for the more traditional run down to Langwied, but the Black Mamba offers a narrow run with top-to-bottom snowmaking to ensure cover even in the early season.
Jump back on the chair or gondola to take you back up to the Alpine Centre and you are ready to do it all again.
ALSO for the first time, Kitzsteinhorn will present a specially-prepared slope that delivers only fun: at the top station of Gratbahn, the new Fun Line offers a special riding experience for all, with jumps and banks.
Black mamba is one of the world's deadliest snakes with lethal bite according to National Geographic. It can grow to about 14 feet long.