By Gareth Robinson, Managing Director of Carrentals.co.uk
If you're planning on renting a car for a ski trip, or in a snowy destination, you need to be prepared to pre-book extras such as snow chains and winter tyres – often not included as standard and can be in short supply during peak season or extreme weather, so secure yours as soon as possible.
Indeed in some Alpine nations chains and snow tryes are compulsory; e.g. in Austria and the mountains of France, carrying snow chains is compulsory in winter, and Austria also demands the use of winter tyres between November and April, where France only recommends their use.
Winter tyres are recognisable by a snowflake symbol or occasionally a snow-topped mountain symbol on the sidewall. It is unlikely, even when hiring a car in a ski destination, that it will already be fitted with winter tyres so be sure to specify you want or require them. Your supplier can help with arranging tyres to be fitted and confirming if, and under what circumstances, you will need them. Investigate this each time you travel as each destination and supplier will differ.
During the busiest times, such as Christmas, New Year, and school holidays, the demand for hire extras will surge, so it's even more important to plan ahead, and never leave till the last minute.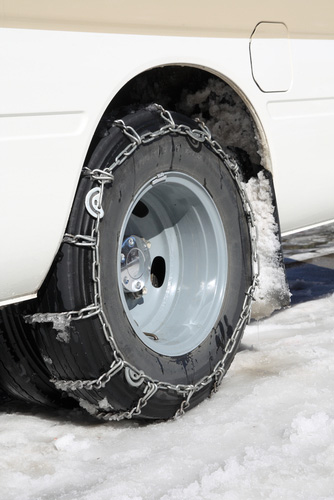 Finally, refresh your knowledge of how to drive safely in severe weather, such as ice and continuous heavy snowfall, and make sure you are confident in fitting snow chains; which should always be fitted to the driving wheels and to front wheels of 4×4's. Additionally if snow chains are fitted you shouldn't drive at more than 30mph. Visibility can also be severely reduced by the weather too, so if you wear glasses when driving, ensure you carry a spare pair.