Norway is the world's happiest place to live, and Juliet Francis finds out why –
The happy accolade comes from the 2017 World Happiness Report, and for sure the country's  beautiful Fjord scenery that is natural yet well cared for, perfectly captures the spirit of Nordic culture and living.
The Holmenkollen annual Ski Festival (pictured) was a perfect opportunity for me to experience a sport that is ingrained into the mindset of the Scandinavian people. Staged  over two weekends in March, the festival attracts over 2,000 competing athletes from across the globe to the famous Holmenkollen site near Oslo, showcasing a number of disciplines including ski jumping, cross country skiing and the Biathalon (cross country skiing with a rifle test included).
Now in its 126th year, it attracts 20,000 revellers enjoying every part of the competition overlooking the pretty view of the famous Nordic landscape. The site is next to the forest where families will set up camp to watch the competitions, take part in the apres ski parties and watch the fireworks and concerts, a tradition that spans generations since the event's inception, and also reflective of the country's power of community.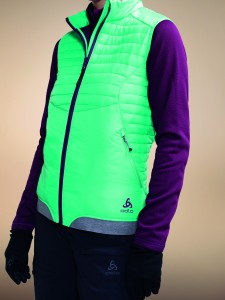 One of the main sponsors of one of the Nordic region's biggest and most famous ski festivals  is the Odlo company, originally founded in 1946 in Norway, and has since gone on to become a heritage brand in Scandinavia, a pioneer in the field of functional sportswear. It was Odlo who invented the three layer principle: the base layer, whose function is to manage moisture levels, the second layer to manage warmth levels, and the third layer to provide protection from the wind.
Now selling in over 35 countries, Odlo not only has major ambassadors within the skiing fraternity, it also has successful collections in the running, outdoor performance, cycling, Nordic disciplines, training/studio and accessories categories. Good ski Guide has rated Odlo the best-performing base layer.
Odlo's Chief Operating Officer, Oslo-born Knut Are HØgberg, said that the new 2017 collection "shows the pioneering characteristics of the brand's state of the art fabrics and design". It has brought forward one of its latest innovations called Ceramicool – an active cooling technology which can also be found in the Spring 2017 collection. Carermicool promises to reduce skin temperature by at least 1°c.  The Ceramicool yarn is made of a special fibre with ceramic particles, creating tiny air channels that dissipate body heat. For the Holmenkollen, Odlo supported the French, Swiss and Slovenian teams.  ensuring they were well equipped to compete.
http://www.skiforeningen.no/en/holmenkollen/