City boys blow bonuses on a spring ski binge…
Our City team pulled off our firm's biggest ever deal – and celebrated with an end -season splurge.
We chose group ski experts Oxford Ski Company to arrange it all – and they got our team of seven into the small, cosy and luxurious chalet Eden in Courchevel centre, easy walk slopes, even easier in the chalet shuttle.
Day One was a dawn First Tracks experience – up Saulire on the pre-booked first lift to a mountain of fresh snow, but below was not a pleasant site – a sea of cloud enveloping France's top resort – so we stayed up top and skied in the sunshine until hunger called, then slowly descended into the mere du nuage to the famous Altiport airport on the pistes.
Instead of our usual al fresco feast, the mist drove us inside the Cap Horn restaurant to a roaring log fire and bubbly all round. We were quickly slightly tipsy from the champers and the delight of being back on snow.
With the boss paying we went a la carte and settled down for the first of many feasts… foie gras, giant fresh prawns, lobster, best beef, before the best puddings table in the Alps floored us. So lunch was our last challenge of the day and after a few of the obligatory, nay necessary, genepi digestifs we slowly slurped and hiccupped our way down empty slopes to the Eden for a dip in the pool and a siesta. (Karen maybe use the warning image here)
So went the rest of our wonder weekend – early morning blasts on wide-open and incredibly quiet April pistes – blow out lunch and ski, ski, ski till they stopped the lifts, back to chalet for a zizz before doing it all over again – aperitifs and boozy château wine with dinner. Well it was a celebratory weekend after all.
A highlight was our trips down to La Praz's famous Bistro, resplendent from a much-needed refurb and new management. Le Bistrot was always a regular haunt for our gourmet-loving team in the days when it specialised in purely foie gras and salad. And I was once asked to leave when we requested bowls of frites with or late lunch. I explained to Gaston, the Hercule Poirot lookalike owner, that we were totally famished after seven hours on the slopes, but he ordered us out indignant.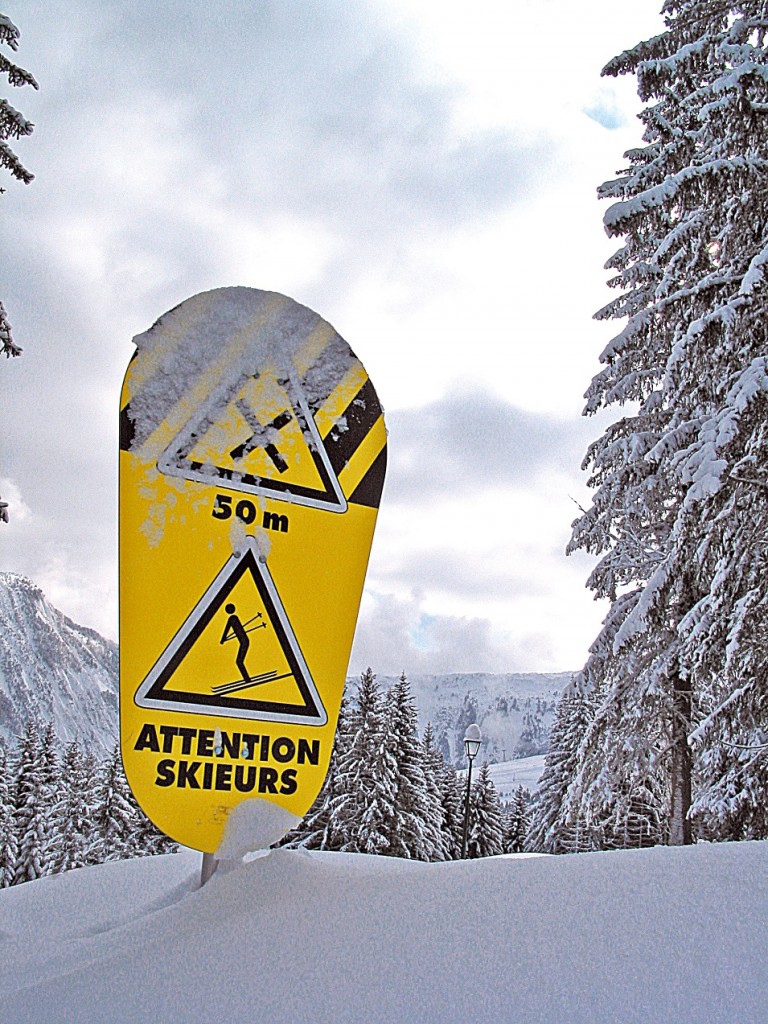 Now rebuilt Le Bistrot is beautifully styled, with bright colours. And the menu matches the mood – and now you can enjoy a gourmand experience with chef's tasting plate – everything the house serves on a giant platter – enough to feed a regiment.
My blow-out trip was a mixture of joy and sadness as I kicked off skis and left the beautiful chalet Eden. So many mercis to the chaps at Oxford and partners Cimalpes, the region's leading luxury chalet supplier for a memorable stay.