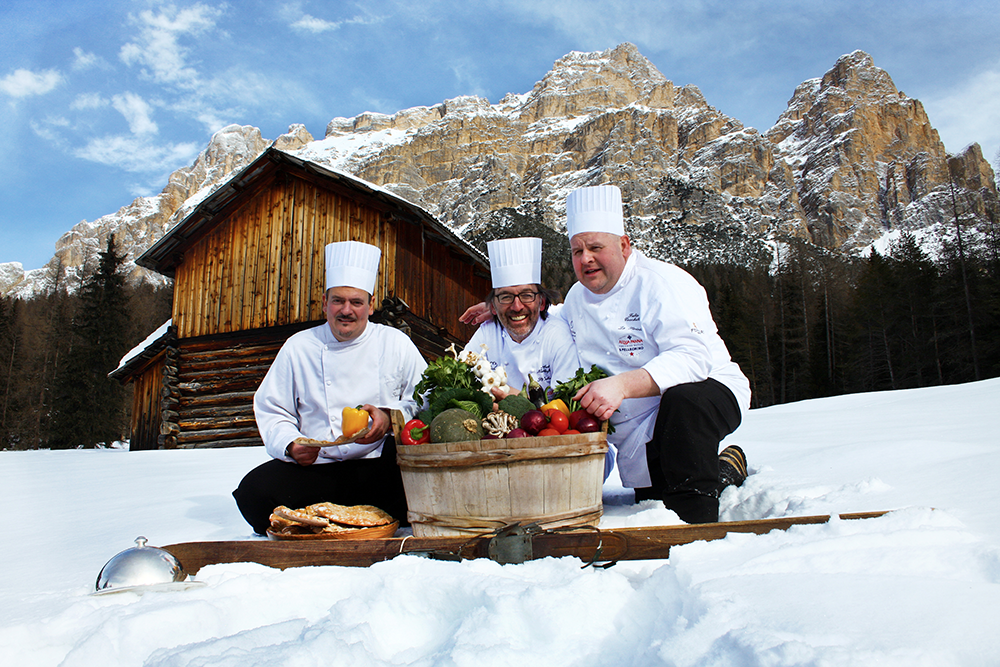 If I was to be asked to name my 3 favourite things to do apart from the obvious the 3 things that I would probably list would be Skiing, Eating, and Drinking. So as when I was asked if I would like to go on a gourmet food ski safari in Alta Badia I obviously jumped at the chance. Having always wanted to ski the Italian Dolomites this was shaping up to be the ski trips that dreams are made of fantastic skiing in a resort I had previously never visited, good food, and fine wine I was very excited.
Alta Badia is a valley that is located in the Italian Dolomites that makes up part of the famous Sella Ronda ski route. The resorts of La Villa, San Cassiano, and Corvara are all located in the Alta Badia valley and are some of the trendiest ski villages in Italy film stars such as George Clooney and Brad Pitt are known to be regular visitors to the region. They are no doubt attracted by the fantastic food in the regions many Michelin starred restaurants as well as the fantastic skiing and stunning scenery of the jagged peaks of the Dolomites.
We were keen to start early to make the most of the excellent early season conditions so we booked a breakfast in the snow dining experience at the Las Vegas Mountain Lodge. We were picked up by a snowmobile from the San Cassiano Gondala station and given the choice of getting in the SnowCat or being towed up the slope by a snowmobile. Always keen for a bit of an adrenaline rush I chose to be towed up and the cold morning air on my face combined with the adrenaline from being towed up hill at 30 mph certainly blew away the cobwebs and woke me up. When we reached the top we were rewarded with a gourmet sit down breakfast, fruit juices and coffee which we finished in time to make sure we still got the first tracks down the mountain. (Las Vegas Breakfast in the Snow experience €20 including snowmobile pick up & all food and drink)
The rest of the day was spent exploring the slopes of the Alta Badia ski area which I have to rate as one of the best ski easy areas I have ever visited it is a whole mountain plateau made up almost exclusively of wide open cruising blue runs. Beginners and Intermediates can explore all day without worrying that they might stray on to something outside of their comfort zone. It must be fantastic to learn in an area like this as beginners can experience the feeling of exploring while skiing rather than feeling as though they are trapped on just a couple of nursery slopes. We skied right through from when the lifts opened until they shut at 5pm when we headed to the bar at the La Perla hotel in Corvara for an Apres ski Cocktail. The region has a specialist Cocktail or Aperitif as the Italians would say called a Hugo which is one of nicest and most refreshing alcoholic beverages I have ever had. It is Prosecco mixed with elderflower juice, mint, Ice and topped up with a dash of water. After a few Hugo's we headed back to our hotel for dinner and a well-deserved early night.
The next day was the day of the Gourmet Food Ski Safari Slope Food Event (€50 a ticket). The mountain huts and restaurants of the ski area are taken over by 6 of the regions Michelin Starred chefs who will each be cooking a 'slope food appetizer'. We decided that we should head to the furthest hut so that we could get some skiing under our belt and work up an appetite before we began gorging on gourmet food and fine wine. We skied from La Villa across the whole ski area to Corvara and then jumped in the Gondola which took us up to the first mountain hut where we were greet with a gorgeous glass of pinot grigio and a wonderful dish of Pork Cheeks with apple mash, sauerkraut, and a red berry juice. We then set off for the next hut excited by what wonderful treats may be awaiting us. This is a fantastic event and real ski day with a difference and I would recommend this trip to anyone who has a love for skiing and food it is just the perfect way to spend your day skiing, eating, and drinking.
Alta Badia is a great ski area there is a total of 130km of pistes and 70km of these pistes are blue runs underlining the fact that Alta Badia is one of the best ski easy regions in the whole of Europe. It is a fantastic resort for those with young families or groups of beginners and intermediates although there are a few black runs for those that that like to test themselves. We stayed at Hotel Ciasa Antines which is €135 per person, per night on a half board basis. If you like the sound of the Gourmet ski safari they are running similar events throughout the ski season for details of these events please see Alta Badia or Sued Tirol for information on all events in the region this season.
Fact Box
Getting there
British Airways flies twice a day from London Gatwick to Verona from just £106 return including taxes, fees and charges. EasyJet flies from London Gatwick to Verona with prices from £37.99 one-way and to Innsbruck in Austria from £55.99 one-way (incl. taxes).
Breakfast at Las Vegas
Price for breakfast and transfer: €20
Price per person per night: €135 per person on a half-board basis (eight bedrooms)
Lift passes
Alta Badia Ski Pass: €213 for six days or a daily pass for €38 – €41 (high season)
Dolomiti Superski: €231 for six days or a daily pass for €42 – €46 (high season)