Despite poor snow, resort is jumping...
From John Hill, in Les Portes du Soleil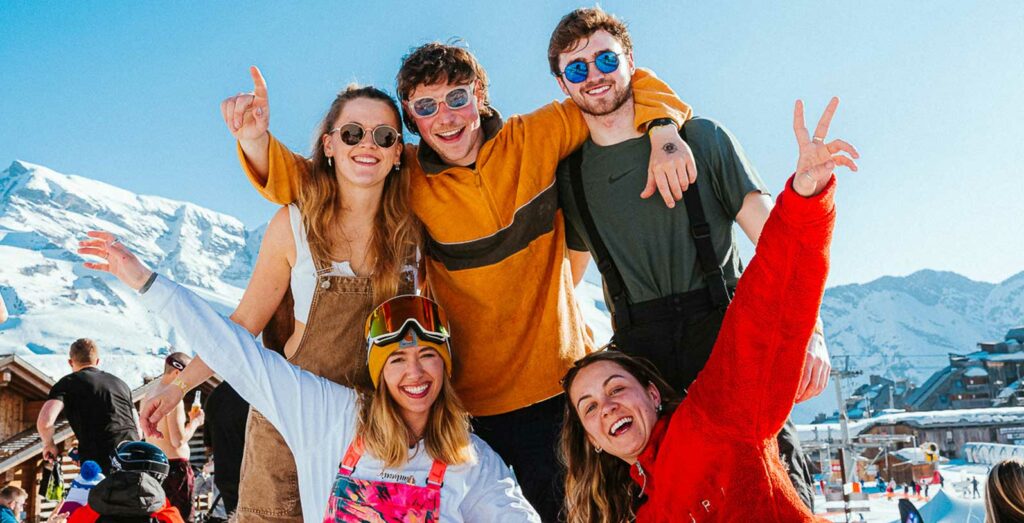 Whilst the Alps is seeing some poor spring snow conditions, France's high-level resorts are faring fine – particularly sunny Avoriaz, which I have just visited for the famous Snowboxx Festival.
The resort was heaving with thousands of happy music fans, mainly from Britain, attending for the resort annual festival of electronic music. Visitors still managed to get in a full day's skiing on the sparse-covered slopes, which I found sufficient for skiing all over this vast linked skidom, though I had no chance to tackle the infamous Swiss Wall black run link to the neighbouring Swiss resorts, and thank goodness as my old and now weary body is still marked from spills on this notorious, ever-downhill slope.
On this visit a niggling knee (from overuse, say medics) forced me to sit out in the sun and listen to hour after hour of fun music, and I even perspired slightly from the fierce sunshine and just watching Europe's youth bouncing the day and night away, and thought – How different from decades ago when Avoriaz's ski season highlight was The World Horror Film Festival, with a much older and creepier following.
Nowadays we have a large and diverse programme of music world class acts by the slopes
I was pleased to see that Avoriaz has managed to retain its trendy and lively atmosphere despite doubling in size over the past 50 years, thanks to its mountain-top positioning and rustic wooden architecture. All very eco-friendly and I loved my Lamara sky-high apartment home, particularly its long-distance views as far as Mont Blanc; and of course of the crowds of fans indulging below in another great French invention – day clubbing - and they started early, just after as they breakfast!
All day the sound of music thundered through the Alps all and evenings too as floodlit concert venues filled up. As an oldie I loved the Abba day and managed to get my balcony shaking a bit as I quietly joined in the revelry. Thank you for the music..
My Lamara apartment had another plus – its ground-level spa with large, warm swimming pool and several saunas, ideal for relaxing after a days clubbing in the sun.
Avoriaz, lift linked to neighbouring Morzine in the Brit-favourite Portes du Soleil, offers 50-plus miles of varied runs, with hundreds more in the large Franco-Swiss linked region which has five terrain parks, and a superpipe.
Nearby Les Gets, interconnecting with both Morzine and Avoriaz, boasts 52 of its 80 trails are red and blue intermediate runs, with nine each for beginners and experts.
All in all the area is a recreational paradise for skiers, snowboarders and electronic music devotees.
Official site: http://en.morzine-avoriaz.com
Accommodation: Where to Stay in Morzine
Swiss Miss!
The Portes du Soleil is an easy 90-minute drive from Geneva airport, though the time saved is all lost as the airport's, untypical for Swiss, queuing is cocked-up every Saturday. After a half-century of practice, Geneva remains Europe's worst-managed ski gateway as the rich airport owners still have not got their act right, forcing many thousands of British and northern European skiers to queue for hours for flights delayed through lack of proper organisation and lack of help from airlines who all insist on early-morning arrivals. Every single flight, apart from those of Swiss Air, was horribly late, causing massive human traffic jams right to the gates.
This sort of mis-management could be fatal in an emergency For my Saturday departure I was forced to wait, standing for nearly four hours before my Manchester flight departed, causing a very awkward rail journey home getting there in darkness and making my local taxi-driver slightly richer.