270km of runs in 

Saalbach

 

Hinterglemm 

Leogang

 

Fieberbrun

n

. Read more..
The Skicircus Saalbach Hinterglemm Leogang  Fieberbrunn is one of the best and largest ski areas in Austria. Just an hour from Salzburg this snowy region has an extensive range of exciting activities, international flair and breath-taking natural landscapes 
The Skicircus offers all winter sports fans ultimate fun in the snow: 270 kilometres of pistes with  140 km blue runs for beginners, 112 km red runs for intermediates and 18 km black runs for the more advanced.  
There are 70 of the most-mechanised lifts, more than 60 cosy mountain huts, numerous snowparks, freeride parks, flood-lit pistes and toboggan runs, making it one of the Alps most diverse ski areas. There  is also speed and race tracks, snow trails and snowtubing provide fun packed action. What's more, there are many other additional offers such as Snowmobil-City, Flying Fox XXL as well as the Baumzipfelweg (Tree Top Trail). 
Freeridide thrills 
Freeride means a lot more than just leaving fresh tracks in deep pristine snow. It also signifies the feeling of freedom in the great outdoors and silence that is only broken by the swooshing of the snow beneath your skis and boards and the uplifting, invigorating feeling  you enjoy when discovering countless slopes and freeride runs. 

 

Skicircus Saalbach Hinterglemm Leogang Fieberbrunn offers Freeride Parks, numerous ski routes of varying difficulty, diverse check rooms (InfoPoints), a Freeride lounge, LVS avalanche transceiver and much more. 

 

The merger with Fieberbrunn in neighbouring Tirol has created an absolute Freeride Mecca which fulfils every dream of skiing enthusiasts.

 
 Nordic park 
Nordic sports, such as cross-country skiing, or winter hiking are very much the in thing.  The new Nordic Park in Saalfelden Leogang has taken up this trend with an area with  kilometres of cross-country and winter hiking trails, as well as offering culinary highlights. The Nordic Park in Saalfelden offers today's nordic fans opportunity to participate in in a natural and relaxing environment, because it is not just all about sport – but also an attitude towards life and connecting with nature and your inner self.

 

 Here's the offer – 150 kilometres of well-maintained  XC trails are awaiting  – such as the Kollingwald trail (5.8 km) or the World Class Race Trial (4.7 km). For those who enjoy late evening sports, there is the flood-lit Ritzensee trail (1.8 km).

 
 Local Delicacies 
All the clean  air and exercise will build up your appetite. Scores of  restaurants and huts in the Skicircus offer a varied and tasty array of dishes. from local cuisine to gourmet menus, there is something for every palate. The main focus is on sourcing and utilising regional products. 

 

Weary skiers will find over 60 mountain huts alongside the piste, where they can enjoy a hearty snack and refuel batteries, as well as quench a thirst. 

 

Enjoy the stunning scenery and take in the sun's rays. Delicacies range from local dishes such as Kasnocken and Speckknödel, to a delicious serving of spare ribs. Some huts also provide a fascinating insight to farming traditions and techniques, demonstrating the Alpine craftsmanship of making cheese and other dairy products.

  

So go and enjoy.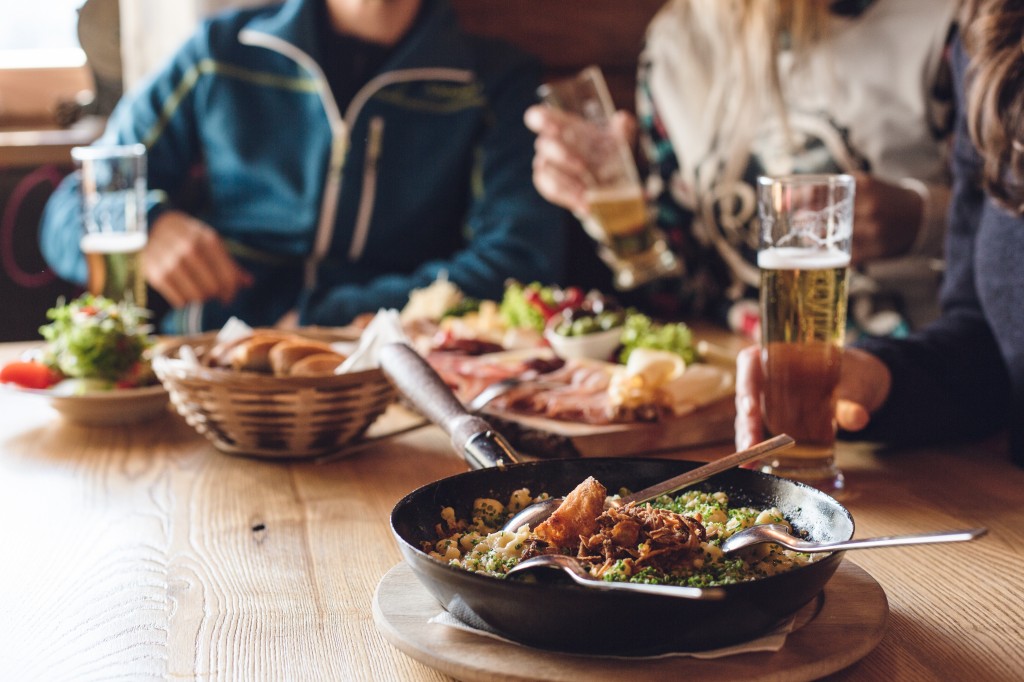 Circus news & events
December 

 

 

8-10.12.2017
BERGFESTival

 

For the fourth consecutive year, the two-day BERGFESTival will take place in Saalbach Hinterglemm in four different locations up to an altitude of 2,000 metres. The line-up includes top acts such as: Christina Stürmer", "Wanda", and many more. 

 

4-17.12.2017
Rave on Snow

 

The massive "Rave on Snow" winter festival is well-known on the clubscene. "Rave on Snow" has been a fixed event in the calendar for over 20 years in Saalbach Hinterglemm. Over 70 DJs and live acts perform. And electro pop fans celebrate for up to four days with non-stop music. Alll happening  indoor and outdoors, up to  2,000 metres atop of the Schattberg. 

 

January

 

 

12.01.2018

 

Ski Touring Marathon

 

More than 500 ski touring athletes from all over the world will gather for the 20th "Mountain Attack" in Saalbach Hinterglemm, a challenge including 6 mountain peaks, with a 3,000 metre altitude difference  40 kilometres.  

9-21.01.2018
Jazz Festival in Saalfelden Leogang

 

Jazz lovers, for whom the famous summer  Jazzfestival is just not enough, can enjoy the "3 Days of Jazz" event at the Kunsthaus Nexus in Saalfelden, the Stöcklalm in Leogang and the mining and gothic museum in Leogang. Come enjoy the warm sounds fill the cold winter air. 

 

26.01.2018

 

 

 

 

 

 7-28.01.2018

White Style

 

The White Style event at the Schanteilift in Leogang kick-starts the event of the season with stars from the international Freeride mountain bike scene. A truly unique event seen nowhere else in the world of snow.  

 

 

Ski Nostalgie  

The Nostalgie Ski World Cup Championships will once again take place at the Schantei in Saalfelden Leogang. Over 250 crazy lads and lasses from various countries, turn up in the same sporty clothing from their grandparents' era, along with laced leather boots and wooden skis. 

 

February

 

 

3-04.02.2018
Skimarathon Saalfelden

 

Exciting competitions for both professional and amateur cross-country skiers. For students and children there is a Mini Ski Marathon. 

 

March

 

 

10.03.2018

 

Freeride World Tour

 

Freeride-Mecca Fieberbrunn will be the hub of the international Freeride-Scene and the only stop of the Freeride Champs, the FREERIDE WORLD TOUR 2018 in Austria and Germany. 

 

16.03.-01.04.2018

 

White Pearl Days

 

The last two weeks in March sees the Skicircus invite you to wonderful spring skiing. Enjoy the perfect holiday feeling with great pistes and fantastic weather. White Pearl Mountain Days provide a perfect recipe with: cool sounds, international cuisine, a health and fitness programme, as well as your personal sun lounger – Alpine Lifestyle! What a way to go!