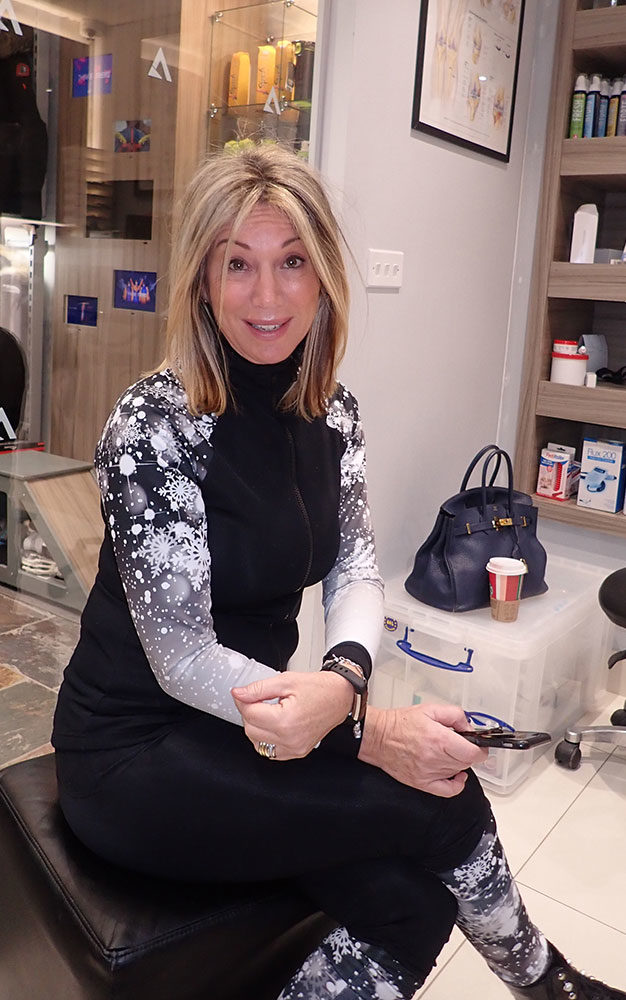 Snow Queen Sharon Reigns
Manchester-based designer Sharon Bentwood leads the ski world in athleisure fashion with S'No Queen thermals you can ski in, shop in, or just be cosy in – combining style and functionality feeling warm and looking great.
S'No Queen founder Sharon, who started the glamorous ladies ski thermals trend, is now International with the brand being sold in 8 countries world wide including the launch in the USA this season.
Not at all bad considering Cheshire girl Sharon – a dedicated long-time skier - started making the eye-popping base and mid layer because she could only buy boring and functional thermals that were lacking any style or glamour. She thought she could do a lot better and did!
"It was enjoyable for me to design the collection because I was my ideal target customer," said Sharon who produced her first thermals at home, but now has the fashion-led garments made by the British manufacturing industry – in Edmonton, North London -
Each year she has seen sales growth soar through increased world wide stockists and online orders from
Most of her growth has come organically which is why you rarely see the #thermalsyouwanttobeseenin in British ski magazines (other than the Good Ski Guide, who discovered Sharon's base layers years ago, when we took a mixed group of industry VIPs to a 5-star hotel in Austria.
Half of the group were prim English ladies, and all had to change into ski gear alongside men in the Krallerhof hotel ballroom so they could get on the slopes early.
The lady boss of Mindshare Advertising agency stunned all by stripping out of her Armani executive suit to reveal her stunning S'No Queen thermals. She proved so popular that she stripped off her Bogner ski suit and sparkled, during a sunshine lunch on the slopes at Saalbach, where she had crowds of admiring men stopping for a peek and women all asking where she got such an eye-catching outfit!
I met Sharon at the upmarket Altimus store in High Street, Kensington, and never having met before she stuck out like a ray of sunshine among a large selection of S'No Queen which sat comfortably alongside industry heavyweights like Bogner and Goldberg
Sharon told me: "I often get praise from major brand-leaders such as Willy Bogner, and stockists Harrods and Altimus, where director Chris Sagger, a big fan, said: "Sharon is nothing short of a genius because her brand is fabulous and well- priced and we are delighted to represent S'No Queen."
So whilst the full range is multi-coloured, with eye-catching reds and blues, and digital prints, nearly 80% of sales, are in on-trend monochrome black and white."
Here's a peek view of the Sno-Queen range, and you can see more at