Fed up with the mass operators and their dreary minimum 7-day packages?  Read more from Jimmy Callery
I decided to book an end-season chalet break with a difference – and went for a special Powder White bespoke weekend break – a 3-day stay in Meribel, heart of France's Three Vallées, and arrived late Saturday evening at Chalet Renardeaux to a champagne and salmon reception, prepared by Digby and Sophie – contenders for world's best chalet hosts.
Powder White specialise in flexible chalet catering, meaning you can take a break to suit your personal needs – in my case I can only get away from work in the City at a weekend with a day tagged on before or after, and was surprised that Powder White were the only ski operator I found who could do just that; as I am a great fan of chalets as a Single skier and like the company and camaraderie of chalet life.
So bright and early me and my new chalet buddies got the operator's VIP van straight to La Chaudanne, the central lift for Meribel, only four minutes away, and our group of four were all good skiers and spent the morning skiing the slopes of Courchevel 1350 and 1850. Surprisingly this massive resort hadn't seen a big drop in weeks but the quality of skiing and snowmaking facilities more than made up. I particularly enjoyed the reds running from Vizelle at 2659m down to Marmottes in Courchevel with some blasting on gentle blues arriving at the Jardin Enfants nursery slope at 1850.
I was in a group of rich chaps also on an end-season splurge so we splashed out and treated ourselves to a three-course meal at the lavish L'Apogée Courchevel ski chalet right on the slopes. And we did it in style – we removed ski boots and slipped into plush red slippers. One of us had stayed there before so we were given a tour – a sushi kitchen, cigar room, wonderful spa with luxurious rippling swimming pool and a salt steam room. The meal itself was delicate and cooked to perfection with sea bass as the main and cost us more than £50 each, but not bad for a £600 a night luxury chalet.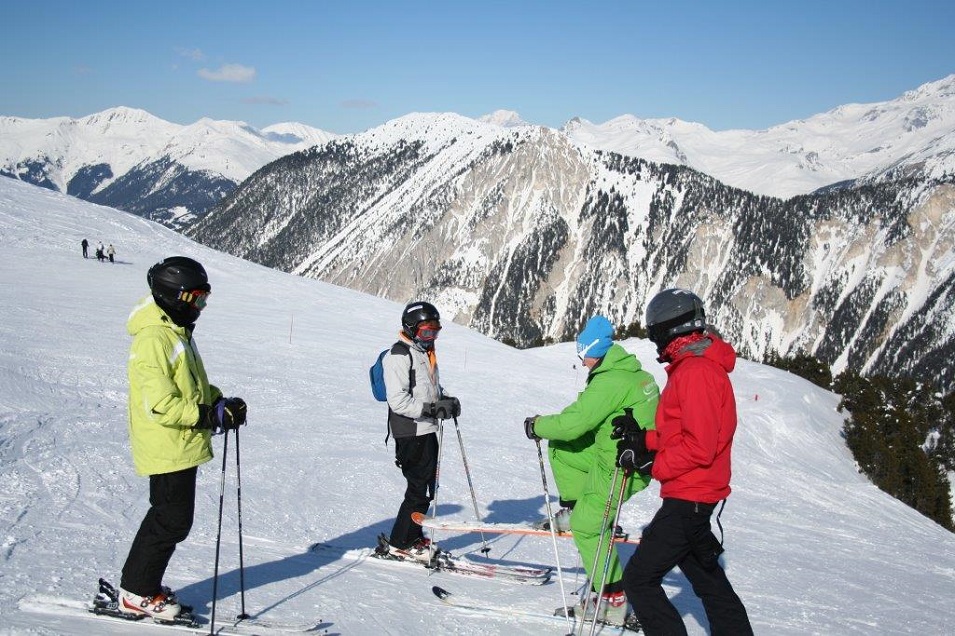 Suitably fuelled, we met Lorenzo from New Generation Ski & Snowboard School for our first slopestyle session at Moon Park in Meribel. The Powder White Slopestyle course gives skiers the opportunity to learn the tricks and jumps. There are three three-hour sessions spread across a week where you learn how to ride backwards, perform 180's and 360's, take off and land on big air jumps and practice core balance on boxes and rails before hitting the half pipe.
Lorenzo taught us how to ski backwards parallel turning, which took a group of intermediate to advanced skiers around two hours to learn. Skiing backwards is helpful for landing certain jumps such as the 180 and for using the half pipe, giving you more control on a slopestyle course.
You start on a near-flat green run so that you're not picking up too much speed. Skis must be horizontal to the vertical fall line.  You need to tilt the back of your skis gradually to the fall line so that you are slipping backwards. To make an arc, tilt your head so that you are looking down the fall line. To help, you can also stick out your lower arm and point to the bottom of the slope. There should be more pressure on the ski closest to the fall line. This should allow you to make an arc in the desired direction. To turn the other way, wait until your turn has finished (i.e. you are horizontal to the fall line and nearly at a stop) then do the same but putting pressure on the reverse ski and with your head tilted the other way. Lesson over.
Après was at Le Portetta hotel in Courchevel 1650 where we celebrated with large gin and tonics and canapés, then went to a bar for a delicious but simple €24 pizza dinner.
And next day was one of my best Monday mornings ever. With my new ski pals we had another free ski day, getting in as much of the Trois Vallées as we could and as my mates were party people we took lunch at La Folie Douce – an extraordinary establishment, where we sat out on the wooden decking while a DJ played subdued electronic music. A man in his early forties, dressed entirely in white, strummed an electric guitar. Yikes – well over the top, often hitting the wrong notes.  It was utterly bizarre but the food was arguably the best of the holiday. I had pike perch fish 'n' chips (29 euros) and the others chose coeur d'entrecôte (€33).
Then it was off to catch up again with Lorenzo who took us to the DC Area 43 snowpark in Meribel-Mottaret. This time we dropped in off a 6.5m half pipe. The adrenaline rush from this was one of the highlights of the holiday. The three of us stood in a line trembling with ghost-white faces, scared that we might fall face-first and die. It was highly addictive.
After dinner at the chalet we spent the evening watching a band at Aux Petits Oignons in Meribel 1600.
Tuesday was our last day and we skied on the always-good snow at Mont du Vallon, which had some challenging reds, and Mont de la Chambre all in the glorious sunshine. My legs were spent so I took a coffee and a beer and reclined in a slope side deck chair at one of the restaurants. After lunch at the chalet we flew back suntanned and thoroughly refreshed. And ready for the very crowded City pistes where I often practice skiing by weaving Ronaldo style swiftly in and out pf crowds using them as human slalom poles. Great practice for my next Powder White trip. At my desk I counted the cost of my much-needed break.
Count-up…
City Airport to Geneva Swiss Economy Light (hand luggage only) only £86.
Chalet Renardeaux costs from £350 per person for seven nights fully catered chalet board – cooked breakfast, afternoon tea, three-course dinner with select dinner wines or unlimited house wine. Powder White can arrange lift passes, ski lessons and guiding, and in-chalet ski fitting. Powder White Shuffle airport transfers cost from €65 one way.
New Generation School intro to Slopestyle session from €99 for 3hrs coaching. Sessions run by Run by Slopestyle and Freeski coach Lorenzo Sebastianelli.
Ski Hire with chalet fitting and rental service in Meribel – €118 for 3 days ski, boot and pole rental.