Super-specialist ski store Ski Bartlett's celebrates its 50th birthday this year as Britain's biggest and arguably best independent ski retailer.
Skiers from far and wide make the pilgrimage to Hillingdon in West London to seek out good advice and buy the very latest, trendiest and best ski and mountain gear.
Pioneering owner Terry Bartlett, aka the Ski Guru, has looked after generations of the country's keenest skiers, from holiday skiers to national team racers, all of whom know they will get advice and knowledge that is second to none. Which is why skiers from as far away as New Zealand, Germany, Poland, Hong Kong and Japan travel to nearby Heathrow Airport and nip over to buy at Barlett's extensive store on the Uxbridge Road, Hillingdon.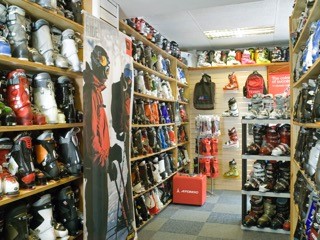 This veritable ski emporium, filled to the rafters with every conceivable ski product, even has Scottish skiers who fly to Heathrow early morning from Edinburgh, take a taxi to Bartlett's, for advice and equipment, has a couple of hours out for a lunch, then collect their gear and taxi back to the airport for an evening flight home!!
Said Terry: "We get good business from all over the UK. We pride ourselves in always giving people the correct advice for their particular type of skiing."
Ski Bartlett carries one of the most extensive ranges of ski products in the UK, arguably even compared to European shops, catering for all aspects of skiing including race, recreational, touring, telemark, freeride and freestyle skiers.
Good Ski Guide is one of the expert companies, as well as top British ski racers, who use Barlett's for our equipment advice and purchases – and highly recommend. And on a recent visit I spotted an American lady kitting out a large family for the slopes, and recognised her as the wife of the US Ambassador.