By John Hill, aged 71
Ski slopes are standing by for an invasion of Golden Oldie skiers this season as the new SKI set arrives – SKI meaning Spending Kids Inheritance.
Retirement used to mean a gold watch and days gardening with a pipe and slippers on hand. Not any more, 70 is the new 50 and the ski trade knows it, and is making all kinds of discounted offers to attract the Golden Oldies with fat wallets.
And whilst the worldwide ski industry is  suffering a decline in new skiers they are seeing an increase in the Golden Oldies as seniors have more money than ever before and more time for leisure. The industry is responding with offers of discounts from everything from ski lessons and ski lift passes to reduced accommodation in hotels.
In Austria's favourite Brit resort of Soll, the 4-star Bergland Hotel is offering huge discounts for seniors and the ski school director Gunter Embacher reports: "We like older skiers and offer them discounts in the ski school  and find that older skiers are better pupils because they want to learn properly and safely."
And the Good Ski Guide, edited by former Fleet Street  chief sub John Hill, has even invented the SKI EASY teaching method to help skiers, particularly Oldies, to ski better, longer without tiring.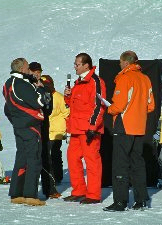 USA
American skiing leads the way with innovative courses for Seniors.  The Bumps for Boomers programme in Aspen, Colorado, teaches  senior skiers how to navigate moguls (snow bumps)  in an energy-efficient way, taking into account the natural slowing of reflexes with age, and how to confidently ski un-groomed terrain runs beyond your previous ability. Aspen also offers silver passes for the over 70s. A whole season pass here at $429 is cheaper than a six day adult lift pass ($544)!
Biggest lift pass discount comes from Canada where Lake Louise owner Charlie Locke, in his late 60s and skis daily in season, has given seniors an entire season pass for just $25 – a $1,000 discount!
Many European resorts offer substantial discounts on lift passes for those eligible for a free bus pass. Les 2 Alpes has lots of ski-in ski-out accommodation and with a free [yes that's free] ski pass for those over 72 years old which means you're left with plenty of euro to spend. With a glacier and guaranteed snow, Les 2 Alpes has a long season and the wide, open trails are perfect for cruising. Want something bigger, well Tignes offers free skiing for those 75 and older. Linked with Tignes, Val d'Isère offers an impressive 20 per cent discount to senior skiers on a 6 day lift pass. It's a world-class resort with 150km of terrain perfect for the intermediate skier. Elsewhere in France La Plagne offers a 25 per cent discount to seniors and with 225km of terrain suits skiers of all capabilities. When booking accommodation there are several villages to choose from in the area including Champagny and Montchavin.
Further south, in the Pyrenees, Andorra's Soldeu offers substantial discounts to skiers from 65-69 years of age and as with Les 2 Alpes skiers over 72s ski for free. The multi valley Grandvalira area connects Soldeu to over 200km of pistes including the resorts of;
El Tarter
Pas de la Casa
Grau Roig
Canillo
Encamp
Grandvalira has skiing on the scale of a French purpose-built resort combined with a more southern climate and great prices.