Ski fanatics come in many guises and we at Good Ski Guide love spreading the gospel about the world's favourite leisure pursuit. And this year we have a trio of new converts happily raving about their love of ski.
If you ever wondered why Channel 4 News is the slickest and most-professional programme on the air you just have to talk to any of the presenters or Editors. Many of them ski but none more than the sports Ed, Keme Nzerem, who will no doubt be slipping away for a ski or two or three when covering Sochi Olympics.
For Keme is a true aficionado, starting at 12 on the Greenwich Council artificial slopes – one 10 metres long, the other 25 metres, rope tow, covered in oil. "It was a disaster, but I loved it. I absolutely loved it", enthused Keme, now hooked.
"So I got a paper round and saved up for my first ski trip – to Courmayeur, a tiny resort but with easy access to phenomenal off-piste skiing, just brilliant.
"Then I got a job running lifts and ski tech-ing in Tahoe, California, so I spend a season there, and got more hooked and stayed in the States, skiing as often as I could. I remember one fabulous mountain in Southern Colorado called Silverton. Only one lift then you've got to hike a bit and they limit the number of riders, so it's good fun and a great, great place."
However Keme prefers being in Europe, where skiing is "more majestic, it's phenomenal." Keme goes skiing as often as he can and gets more and more adventurous. "For my next ski trip, it is the Himalayas. I'm going to India in January."
Another lucky skier in the right job is piste warrior Suneil Banerjee, a British Airways, First Officer, who loads his ski gear in the hold when flying to any destination near skiing. "I love Europe for the 'raw mountain' experience and the après-ski – anywhere in the Three Valleys is great for both" I also love the traditional mountain chalets in some of the Swiss resorts – big open fire, balcony covered in snow and the smell of chocolat chaud. "However, you can't beat North America for the big mountain powder. Nothing better than waking up to a fresh powder dump and getting on that first lift then looking back up at those fresh tracks you've just made – makes you feel like you're the only person on the mountain."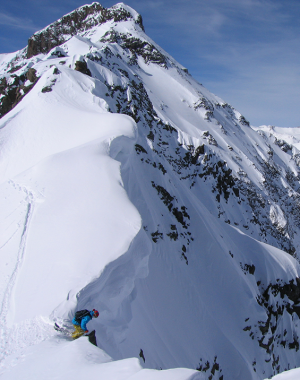 Suneil spoke to us just after taking an amazing ski trip in Kazakhstan after a stop-over in Tblisi. He told us there was a two-hour drive to the slopes, then a long lift to the top but thereafter some of the best and most brilliant powder snow to enjoy and a mountain to himself. "I was in the Caucasus Mountains in the resort of Gudauri, expecting very little but left massively impressed. There is only one European standard hotel but the skiing was fantastic. High-speed quads, gondolas, great snow and easily enough skiing area to keep you busy for a few days. A day lift pass costs £10. I got in touch with the crew beforehand and four of us made the trip."
"I love flying to Beirut. A lot of the Middle East is only mentioned negatively in the media, but Lebanon is a real gem. Where else in the world can you ski in the morning and then sun bathe on the beach in the afternoon. Add to that some of the best food in the world, great nightlife and friendly people, "
Another man with the perfect job for a ski fanatic is Jarrod Osbourne, boss of Ski Olympic – the award-winning independent chalet operator, who told us: "My favourite is Val d'Isere, and my ideal week is the middle of January when the snow is colder than ever. Après ski is great, everyone loves après ski. A couple of years ago in Austria I finished skiing at 4.30 and ended up in some fantastic bars and before you know it, it's 3'o clock in the morning, your skis are still outside in the snow and you've still got your ski boots on and you've had the best night ever.
"A good ski day would have been ten-twelve years ago in Courchevel, it felt like all day long, the sun was shining it was a fantastically clear day there was probably around six or seven of us, all similar ability of skiing and we just had the best day. We had a fantastic lunch in a fantastic restaurant and then carried on all afternoon and it was fantastic.
More fanatics in the right jobs include Downhill Racer star Robert Redford, so hooked he bought his own ski resort, Sundance in Utah, and Dolly Parton who has a ski station right above her Dollywood resort in Tennessee.
And don't forget President Vladimir Putin, so hooked he built his own resort and luxury pad in the mountains next to Sochi, where Russian hosts the Olympics.